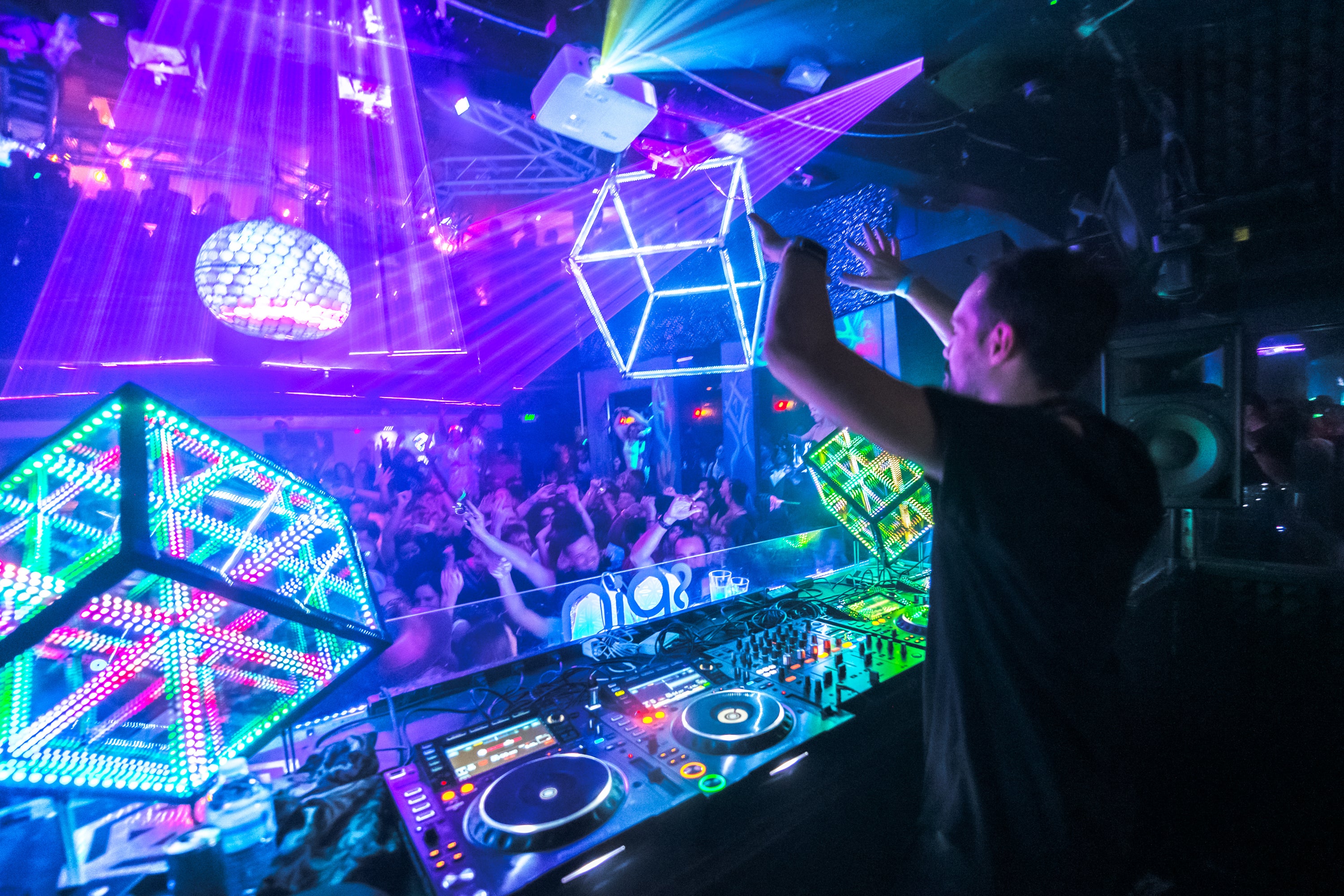 Unleash the Power of DJ LED Lighting
Elevate Your Performances
Creating Unforgettable Experiences with DJ LED Lighting
At Hyperspace Lighting, we bring you cutting-edge DJ LED lighting solutions designed to transform any stage into a mesmerizing visual spectacle. From pulsating colors to dynamic lighting effects, our DJ LED lighting products are tailored to create an electrifying ambiance that complements your music and captivates your audience.
With Hyperspace Lighting's HyperCube10 and HyperCube15 art pieces, you can enjoy up to 95 unique patterns and advanced sound reactivity. The HyperDrive LED Kit offers LED strips that can be placed around the venue. Our advanced technology ensures seamless transitions and smooth lighting effects, elevating your space to a whole new level.
Whether you're a professional DJ, event organizer, or enthusiast, our DJ LED lighting solutions offer unrivaled flexibility, control, and portability. Let your creativity shine and set the stage ablaze with Hyperspace Lighting's revolutionary LED technology.
Illuminate Your Parties
Mood-Setting, Visual Effects, & More
Elevate the party experience with Hyperspace's DJ LED lighting, designed to set the perfect mood and create stunning visual effects that bring your events to life. Our state-of-the-art LED lighting solutions allow you to effortlessly switch between vibrant colors, dynamic patterns, and mesmerizing effects, all controllable through a user-friendly app.
Create a pulsating dance floor with beat-synced lighting that immerses guests in the music's rhythm. Set the mood with ambient lighting to match the event's theme or captivate the crowd with eye-catching visuals during high-energy moments. Hyperspace's DJ LED lighting is the ultimate tool to amplify the excitement and leave a lasting impression on every partygoer.
Explore Hyperspace's DJ LED Lighting Features
Experience the ultimate synergy of technology and creativity with Hyperspace's DJ LED lighting solutions. Our LED kit and HyperCubes bring a spectrum of vivid colors and dynamic effects to illuminate your performances like never before. With intuitive app control, you have the power to customize the lighting on the fly, sync it with the music, and create a mesmerizing audio-visual experience that leaves the crowd in awe.
Customize colors, create dynamic lighting effects, and enjoy advanced sound reactivity for the perfect ambiance. Choose from 95 unique patterns and 3 modes or design your own color combinations. 
Adjust brightness, speed, patterns, and intensity with the user-friendly app interface, and save your presets for future use. Our high-quality components ensure durability and longevity, with scratch-proof acrylic mirrors for a pristine reflection and top-notch LEDs with a lifespan of over 50,000 hours. Elevate your DJ set and unlock endless possibilities with Hyperspace Lighting's solutions.
Elevate Your Party Atmosphere with Sound Reactive DJ LED Lighting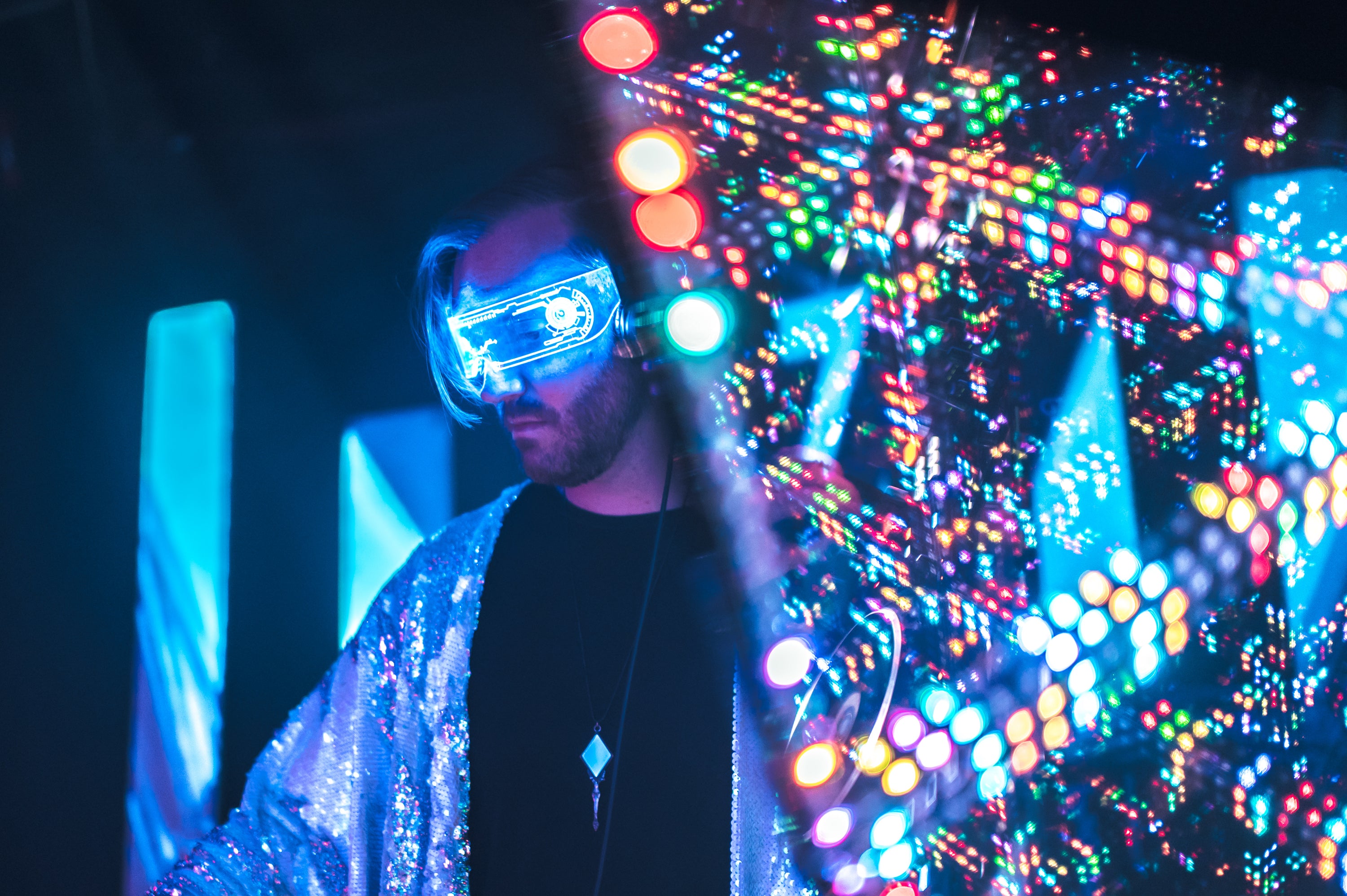 Synced to the Beat
Elevate Your Party Atmosphere with Sound Reactive DJ LED Lighting
Unleash the power of sound reactivity with Hyperspace DJ LED lighting, a game-changer in creating mesmerizing audio-visual experiences. Our innovative LED lights are equipped with advanced sound sensors that pick up musical frequencies and translate them into captivating light patterns.
Whether it's pulsating to the beat of the music or responding to different sound elements, such as bass drops or melodies, the sound reactivity feature adds an immersive dimension to any party. Elevate the energy and excitement on the dance floor with lights that dance along with the music, making your event an unforgettable spectacle for all your guests.
How to Choose Your Ideal DJ LED Lighting
Choosing the perfect DJ LED lighting for parties is essential to create a captivating and unforgettable atmosphere. At Hyperspace Lighting, we offer a range of cutting-edge LED lights that cater to every party's needs.
First, consider the venue size and layout to determine the number of LED fixtures required for even illumination. Then, opt for versatile lighting options with customizable features, such as color, intensity, and effects, to match the party's theme and mood. For larger events, explore our synchronized lighting systems that add a dynamic visual dimension to the music.
Lastly, ensure easy setup and control with user-friendly interfaces and mobile apps to seamlessly adjust the lighting on the go, enabling you to focus on delivering a spectacular experience for your guests.
Explore Our Best Products
Vibrant Visuals: Explore the World of LED Color Lighting Effects
Experience the mesmerizing LED color lighting effects with Hyperspace DJ LED lighting, designed to elevate your party to the next level. Our cutting-edge LED lights offer a wide spectrum of vibrant colors and customizable lighting effects that will transform any event into an immersive visual spectacle.
From smooth color transitions to dynamic strobes and pulsating patterns, our LED lights allow you to set the perfect ambiance and match the mood of your party. With easy-to-use controls, you can effortlessly adjust the colors and effects to suit the music, create stunning visuals, and keep the energy high on the dance floor. Get ready to impress your guests and create unforgettable memories with our DJ LED lighting effects.
Enjoy the Spectacle of DJ LED Lighting
Hyperspace Lighting offers an extraordinary range of DJ LED lighting solutions that bring excitement, energy, and visual brilliance to any party or event. With cutting-edge technology and advanced sound reactivity, our LED lights create a captivating audio-visual experience that enhances the atmosphere and keeps the dance floor alive.
From the mesmerizing LED color lighting effects to the versatility of our products, our DJ LED lighting solutions are designed to empower DJs and party enthusiasts alike. With easy installation and intuitive controls, our LED lights ensure a seamless and immersive experience, allowing DJs to focus on their performance while captivating their audience with stunning lighting effects. Elevate your parties and events to new heights with Hyperspace's top-notch DJ LED lighting.
Absolutely! Hyperspace's DJ LED lighting is designed for ease of use. Our LED kits come with straightforward installation instructions, and once set up, you can easily control the lights using our app. Adjust colors, patterns, and sound reactivity with a few taps on your smartphone.
It depends on where you are. Orders processed here will take 5-7 business days to arrive. Overseas deliveries can take anywhere from 7-16 days. Delivery details will be provided in your confirmation email.
Yes, you can! Hyperspace's DJ LED lighting allows you to sync up to 256 devices simultaneously. This feature enables you to create a more expansive and synchronized lighting experience for larger venues and events.
Consider factors like the size of the venue, the type of events you host, and the desired lighting effects. Hyperspace offers a range of DJ LED lighting options, from LED strips to HyperCubes, providing you with choices to suit your specific requirements.
Absolutely! LED technology is highly energy-efficient, consuming less power compared to traditional lighting options. Our DJ LED lights not only produce stunning effects but also help you save on energy costs.