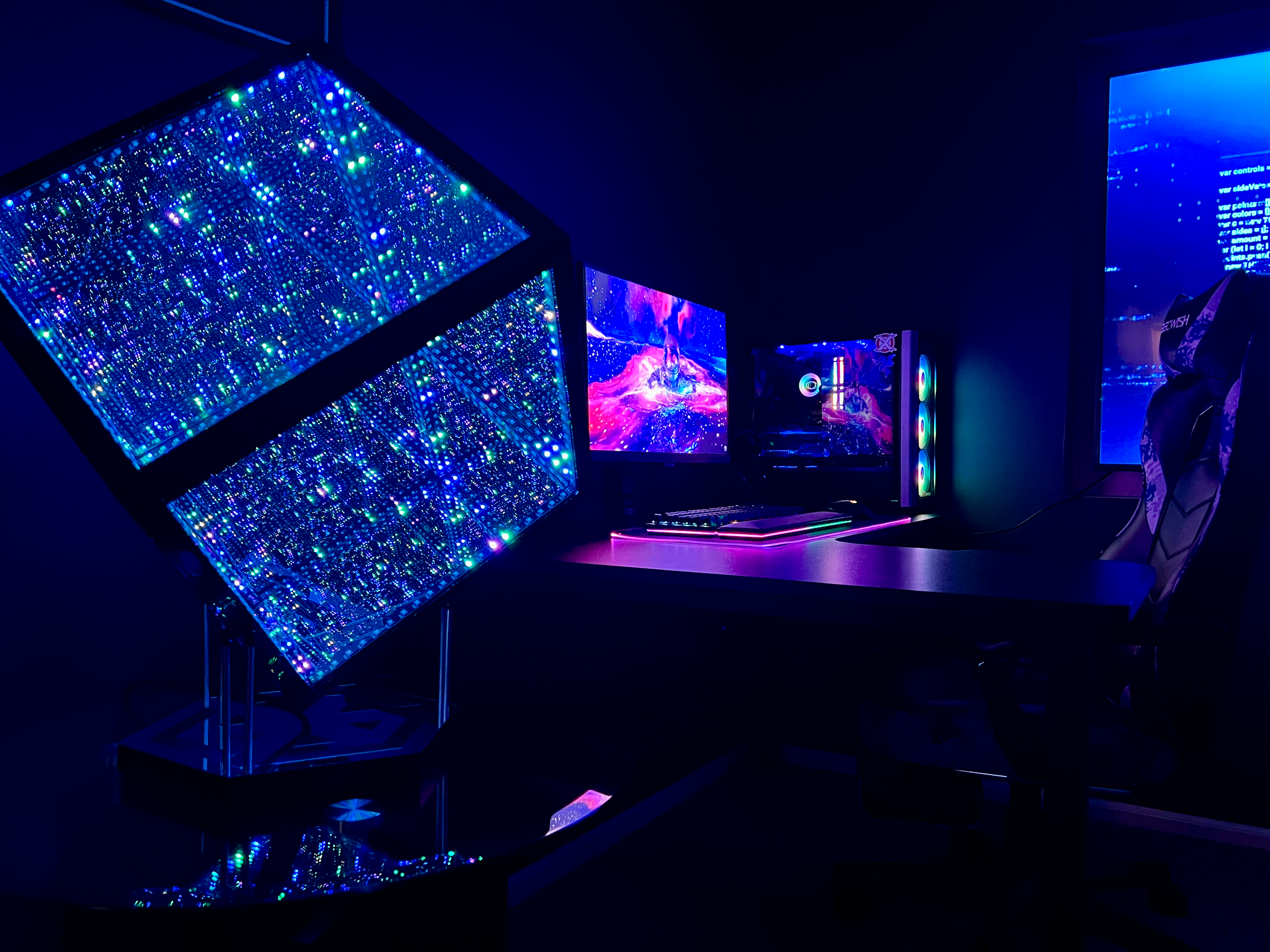 Elevate Your Home
Hi-Tech Decor: Where Innovation Meets Interior Design
Embrace the Future
Explore Hyperspace's Hi-Tech Decor
Step into a world of innovation and design with Hyperspace Lighting's Hi-Tech Decor. Our cutting-edge products combine technology and aesthetics to transform your space into a futuristic oasis. Immerse yourself in the captivating glow of color-changing lights, bringing a dynamic and vibrant atmosphere to any room.
With our Hyperspace Lighting's HyperCube10 and HyperCube15 infinity mirror art pieces, you can enjoy up to 95 unique patterns and advanced sound reactivity. The HyperDrive LED Kit offers LED strips that can be placed around the room. Our advanced technology ensures seamless transitions and smooth lighting effects, elevating your space to a whole new level.

Experience effortless installation and intuitive controls that allow you to effortlessly customize your lighting to perfectly suit your mood and style. Elevate your home or office with our Hi-Tech Decor collection and experience the perfect fusion of innovation and interior design.
HI-Tech Decor
Unleash the Power of Technology in Your Living Space
Discover the Ultimate Hi-Tech Decor for Your Home
Upgrade your home with the latest advancements in technology and design with Hyperspace Lighting's hi-tech decor. Transform your home into a futuristic haven by incorporating smart lighting solutions like the HyperCube Nano and HyperCube 10. These state-of-the-art fixtures offer color-changing capabilities and advanced control options, allowing you to create personalized lighting experiences. Combine them with sleek, minimalist furniture and high-tech gadgets to create an atmosphere that's both modern and inviting.
With Hyperspace's Hi-Tech Decor, you can enjoy the convenience of smart home automation while adding a touch of futuristic elegance to your living environment.
Key Features of Hi-Tech Decor
Hyperspace Lighting's hi-tech decor offers a range of key features that seamlessly blend technology with modern aesthetics.With color-changing capabilities and customizable lighting effects, you can effortlessly create the perfect ambiance for any occasion.
Choose from our 95 unique patterns and 3 modes or create your own unique color combinations. With the ability to adjust brightness, speed, patterns and intensity, you can fine-tune the lighting to suit your preferences on the app. The user-friendly interface makes it easy to create and save your own unique lighting presets. Built with high-quality components, our hi-tech LED lights are durable and long-lasting. The scratch-proof acrylic mirrors ensure a clear and pristine reflection, while the highest quality LEDs guarantee a lifespan of over 50,000 hours.
The HyperCube Nano's compact size makes it ideal for smaller spaces, while the HyperCube 10 provides a larger lighting solution for larger rooms. Experience the future of home decor with Hyperspace Lighting's hi-tech offerings.
Selecting the Right Decor for Your Modern Space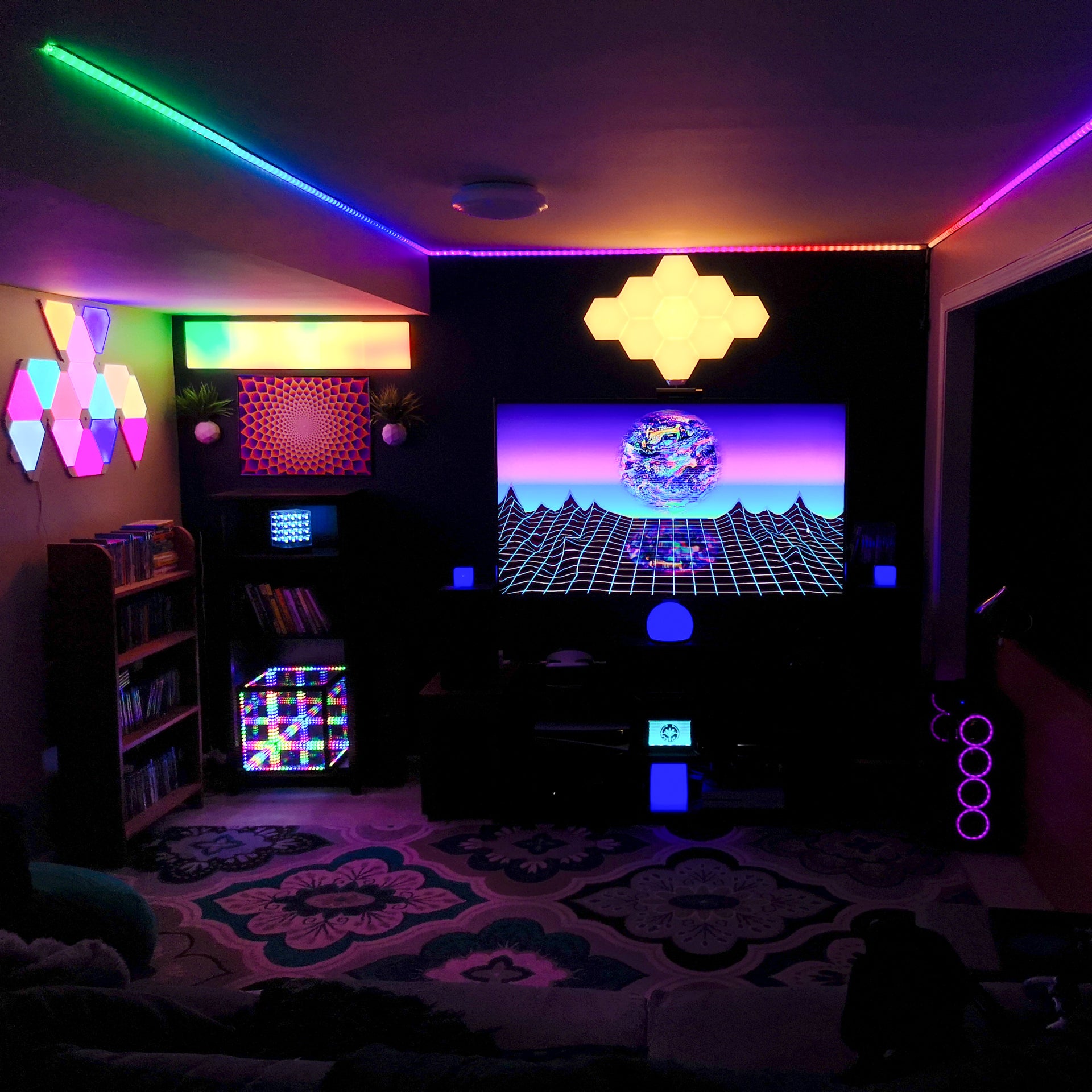 The Art of High-Tech Design
Selecting the Right Decor for Your Modern Space
Selecting the perfect high-tech decor for your space is essential to create a harmonious blend of technology and style. Hyperspace Lighting offers a range of innovative options to help you make the right choice. Consider the size and layout of your room to determine the ideal lighting solution. Then, think about your desired ambiance and functionality, and choose fixtures that align with your preferences. Additionally, explore complementary high-tech gadgets and furniture to complete the futuristic look. With Hyperspace's high-tech decor, you can effortlessly elevate your space to a new level of sophistication and convenience.
Step into the Future
Transform Your Space with Hi-Tech Decor
Immerse yourself in the world of tomorrow by creating a futuristic set-up with Hyperspace Lighting's hi-tech decor. Elevate your space with sleek and modern designs that seamlessly integrate technology and aesthetics.
Start by incorporating the HyperCube Nano or HyperCube 10, both featuring cutting-edge color-changing lights, into your decor. These mesmerizing pieces will instantly transform any room into a sci-fi-inspired sanctuary. To complete the futuristic vibe, complement the lighting with minimalistic furniture and clean lines. Incorporate smart home technology and voice control features for a truly high-tech experience.
Whether you're designing a living room, office, or entertainment area, our Hi-Tech Decor will transport you to the future.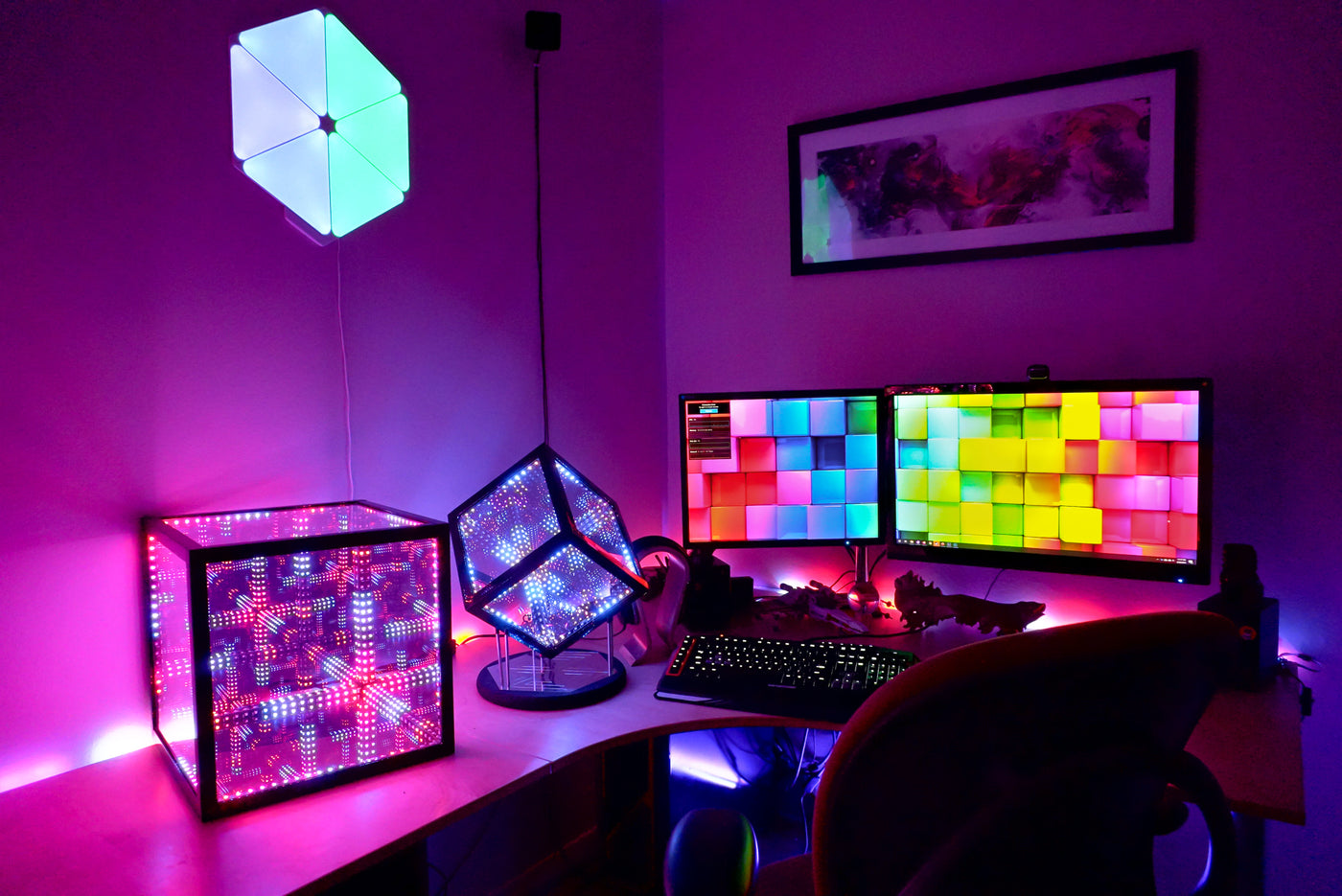 Hi-Tech Decor: How it Works
Our innovative products make it effortless to transform your space into a mesmerizing, hi-tech visual spectacle. Installing your Hyperspace lights is a breeze—just plug in the system, and witness your surroundings instantly burst with vibrant hues and captivating effects.
Take complete control of your lighting experience with our user-friendly Hyperspace Lighting App. With intuitive controls, you can customize modes, patterns, colors, brightness, and speed to your heart's desire. Whether you're drawn to symmetrical patterns or crave dynamic effects, our app empowers you to unleash your creativity and create the perfect lighting ambiance to suit your mood. Get ready to immerse yourself in the captivating world of hi-tech decor with Hyperspace Lighting.
Music Meets Light
Experience the Magic of Sound-Reactive Hi-Tech Decor
Transform your space into a dynamic audio-visual experience with sound-reactive hi-tech decor from Hyperspace Lighting. Our cutting-edge technology allows your lights to sync with the rhythm and beats of your favorite music, immersing you in a mesmerizing display of colors and patterns. Whether you're hosting a party, unwinding after a long day, or simply want to enhance your environment, the sound-reactive feature creates an engaging and immersive ambiance.
Watch as the lights dance and pulse in perfect harmony with the music, elevating the energy and creating a truly unforgettable atmosphere. Let your senses come alive with sound-reactivity and turn your space into a captivating symphony of light and sound.
Explore Our Best Products
Create Your Dream Ambiance with Hi-Tech Decor
Transform your space into a futuristic haven with Hyperspace Lighting's hi-tech decor. Our innovative products, including the HyperCube Nano and HyperCube 10 and HyperCube 15, bring the perfect blend of technology and style to your home. Create mesmerizing lighting effects, adjust colors and brightness, and synchronize with other smart devices effortlessly.
With easy installation and user-friendly controls, you can elevate your space in no time. Whether you're looking to set the mood for a cozy evening or impress guests with a stunning light show, our hi-tech decor is designed to exceed your expectations. Embrace the future of home decoration and unlock the endless possibilities of Hyperspace Lighting's hi-tech offerings.
Hi-tech decor, such as the products offered by Hyperspace Lighting, brings a futuristic and captivating atmosphere to your home. With advanced features like color-changing lights, customizable effects, and smart controls, it allows you to create the perfect ambiance for any occasion.
Absolutely! Hyperspace Lighting products are designed with user convenience in mind. They come with straightforward installation instructions and require minimal technical knowledge. You can quickly set up and start enjoying the benefits of hi-tech decor in your space.
Yes, they are. Hyperspace Lighting products utilize energy-efficient LED technology, ensuring long-lasting performance while consuming minimal power. You can enjoy the stunning visual effects of hi-tech decor without worrying about high energy bills. Hyperspace Lighting's LED lights are designed with high-quality LEDs that have a long lifespan of over 50,000 hours.
Certainly! Our advanced sound-reactive feature enables you to synchronize your lights with your favorite tunes, creating a mesmerizing audio-visual experience for parties, events, or simply enhancing your daily ambiance.
Absolutely! Our hi-tech decor products are designed with safety as a top priority. They undergo rigorous testing and comply with industry standards to ensure your peace of mind while enjoying our lighting solutions.