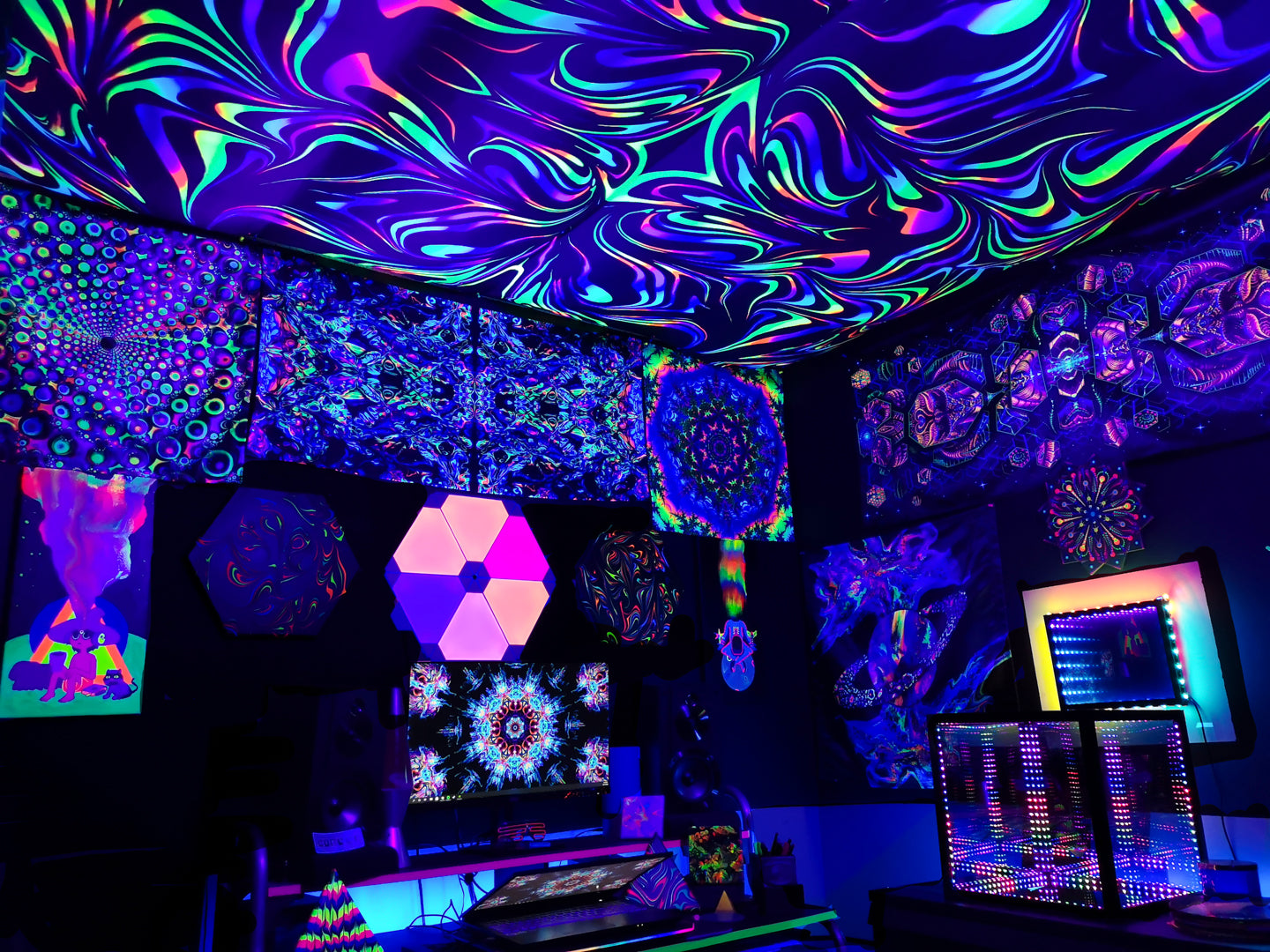 Transform Your Space
Trip Cave
Explore the Ultimate Trip Cave Experience!
Looking to experience an otherworldly adventure? Look no further than trip caves! These immersive spaces provide a unique, sensory journey through dazzling colors and mesmerizing patterns. With advanced sound reactivity and multiple modes, the HyperCube10, HyperCube15, and HyperCube Nano are the perfect tools for creating the ultimate trip cave experience. These ultra-chromatic, hyper-luminous infinity mirrors are crafted from high-quality components, including scratch-proof acrylic mirrors and the highest quality LEDs with a lifetime of over 50,000 hours. With 95 unique patterns and app control, the HyperDrive LED Kit provides even more customization options. Transform your home into a captivating wonderland with the unparalleled brilliance of Hyperspace Lighting's trip cave products.
Cyber Tech Lighting
Customized lights for your cyber tech needs!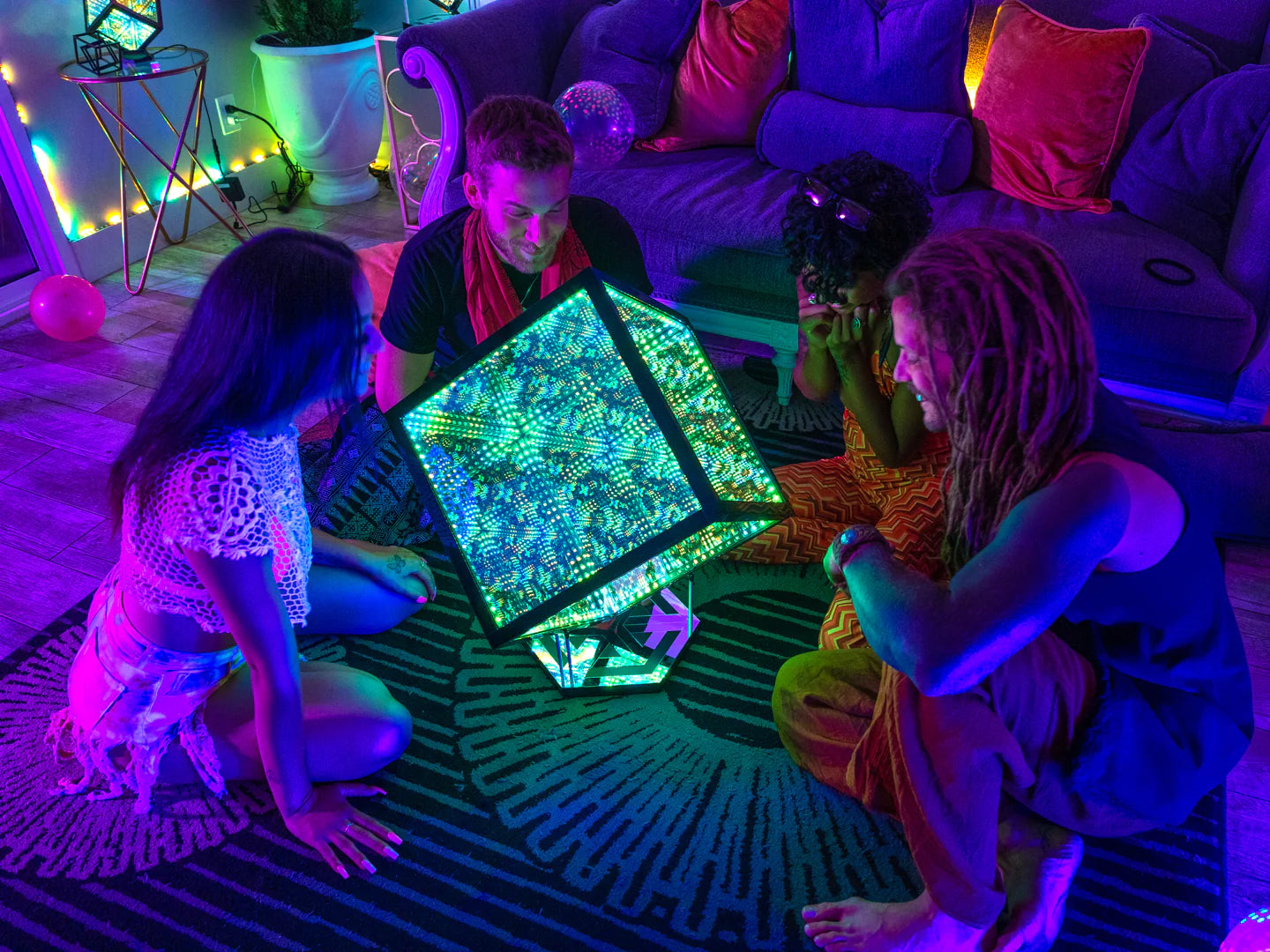 Unleash Your Inner Trip Cave Explorer
Embark on a journey of self-discovery and explore the mysterious world of trip caves. These unique spaces are designed to transport you to another dimension, where you can lose yourself in the magic of your surroundings. With a range of products available, including infinity mirrors and LED strips, you can create your very own trip cave that's tailored to your individual tastes and preferences. Immerse yourself in the mesmerizing colors and patterns, and let yourself be carried away to a place where anything is possible. It's time to unleash your inner trip cave explorer and discover a new realm of endless possibilities.
Upgrade your Space
How to Use Color in Your Trip Cave to Alter Your Mood
When it comes to designing a trip cave, color can play a major role in altering your mood and creating the desired atmosphere. Whether you're seeking a relaxing oasis or a stimulating environment for creative work or socializing, using the right colors can make all the difference. Start by selecting a color scheme that speaks to your intentions for the space. Warm, earthy tones like amber, rust, and olive can evoke feelings of comfort and grounding, while brighter colors like red and orange can stimulate energy and creativity. Consider using lighting solutions like the HyperCube10, HyperCube15, HyperCube Nano, and HyperDrive LED Kit from Hyperspace Lighting to enhance the effects of your color choices and truly transform your trip cave experience.
Enhancing Your Trip with the Right Lighting
Enhancing Your Trip with the Right Lighting
When it comes to creating the perfect trip cave, lighting is key. The right lighting can alter your mood and enhance your overall experience. To enhance your trip, consider using LED lights, such as those offered by Hyperspace Lighting, which can create an immersive and mesmerizing environment. With their advanced sound reactivity and a variety of unique patterns and modes, LED lights can help transport you to another dimension. Additionally, color plays a major role in setting the mood of your trip cave. Cool colors like blue and green can create a relaxing and calming environment, while warm colors like red and orange can create a more energizing and stimulating atmosphere. By carefully selecting the right lighting and color scheme for your trip cave, you can enhance your overall experience and create a truly immersive environment.
Immerse Yourself In a Hyperspace Trip Cave
A Hyperspace Trip Cave is a unique and exciting way to experience a psychedelic journey. These caves are designed to provide a safe and immersive environment that enhances your trip through lighting, sound, and visual effects. Each cave is equipped with high-quality LED strip lights that can be customized to create a wide range of color combinations and effects. The lighting can be used to create a calming and relaxing atmosphere or an energetic and vibrant one, depending on your desired trip experience. The caves also feature sound systems that can be adjusted to suit your music preferences and mood. The combination of lighting and sound in a Hyperspace Trip Cave creates a truly unforgettable trip experience.
Explore Our Best Products
Choosing a Color Scheme for Your Trip Caves
When designing your trip cave, color is a powerful tool to create the desired mood and atmosphere. Different colors have been shown to affect our emotions and behavior, and can even enhance the effects of a psychedelic experience. It's important to choose colors that resonate with you and align with the intention of your trip. Some popular color schemes for trip caves include earthy tones, cool blues and greens, and vibrant neon hues. The Hyperspace Lighting line offers a variety of LED strip lights that can be customized to any color or brightness level, allowing you to create a personalized color scheme for your trip cave. Keep in mind that lighting is just one aspect of creating an immersive trip cave experience - consider incorporating other sensory elements like music, textures, and scents to enhance the overall experience.
Hyperspace Trip Caves
Escaping Reality
Hyperspace trip caves offer an immersive experience that allows you to escape reality and enter a world of your own creation. By incorporating unique lighting and design elements, these trip caves provide a space for relaxation, reflection, and exploration. With the right combination of colors, textures, and lighting effects, you can create a truly one-of-a-kind experience that caters to your personal tastes and preferences. Whether you want to unwind after a long day or explore your own mind, a trip cave from Hyperspace can provide the perfect setting for your journey.