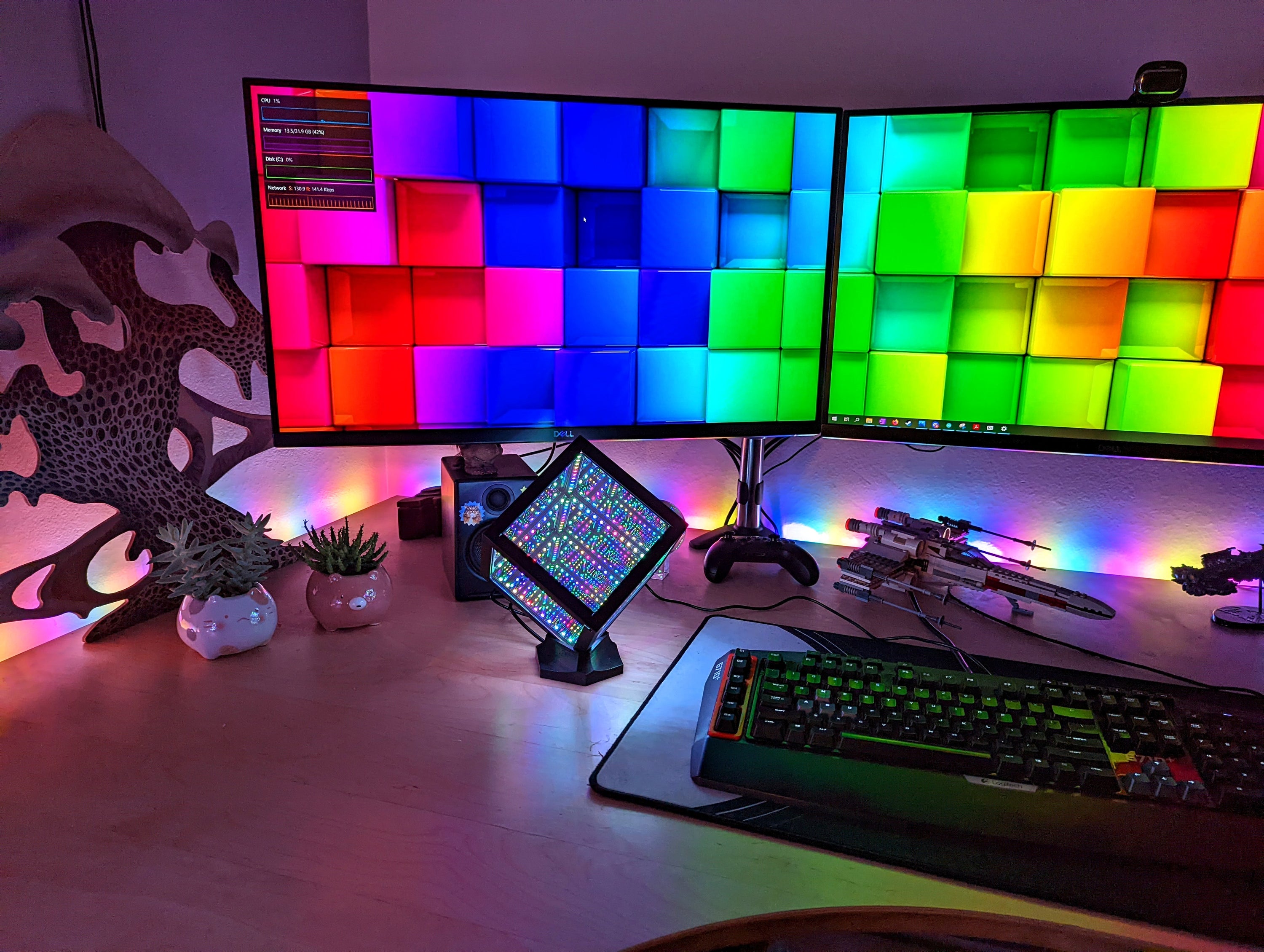 Light up your world
RGB LED Cube
Creating the Ultimate RGB LED Cube Display Experience
RGB LED cubes offer a versatile way to create stunning and immersive lighting displays that can elevate any room's ambiance. Hyperspace Lighting's HyperCube Nano, HyperCube10, and HyperCube15 are premium products that offer ultra-chromatic, hyper-luminous infinity mirror art pieces with high-quality components and scratch-proof acrylic mirrors that are built to last.
By incorporating RGB LED cubes into your home decor, you can create a custom lighting display that matches your mood and the occasion. With the ability to change colors and patterns, RGB LED cubes can create a vibrant and energetic atmosphere for a party or a relaxing and cozy ambiance for a quiet night in. Accent lighting with warm color temperatures can create a cozy and inviting atmosphere that makes the space feel more approachable. Alternatively, cooler color temperatures can create a more modern and minimalist ambiance that emphasizes the clean lines and bold shapes of contemporary art. With RGB LED cubes, the possibilities are endless, and the result is a unique lighting display that you can enjoy for years to come.
The New Trend in Home Decor
RGB LED Cube
Maximizing the Visual Impact of Your RGB LED Cube with Color Theory
RGB LED cubes are a fantastic way to bring vibrant, eye-catching color to any space. To make the most of your LED cube display, it's essential to understand the basics of color theory. By using complementary colors, for example, you can create a harmonious color scheme that enhances the visual impact of your display. The color wheel is a helpful tool for identifying complementary colors. Complementary colors are opposite each other on the color wheel, such as blue and orange or green and magenta.
Another important consideration when designing an RGB LED cube display is the use of warm and cool colors. Warm colors like red, orange, and yellow tend to create a cozy and inviting atmosphere, while cool colors like blue, green, and purple can evoke a more tranquil and soothing mood. By incorporating both warm and cool colors into your display, you can create a dynamic visual experience that appeals to a wide range of preferences. Additionally, using accent lighting to highlight specific features of your display, such as a particular color or shape, can draw attention and add depth to the overall design.
Upgrade your Space
Enhancing Your Gaming Setup with an RGB LED Cube
RGB LED Cubes are a great way to add a vibrant and dynamic element to your gaming setup. With their advanced sound reactivity and customizable color options, you can create a unique and immersive gaming experience that enhances the mood and atmosphere of any game. One popular way to incorporate an RGB LED Cube into your gaming setup is to use strip lighting around your monitor or behind your gaming console. This not only adds a pop of color to your space, but can also reduce eye strain and create a more immersive gaming experience.
Another way to use an RGB LED Cube in your gaming setup is to incorporate accent lighting in key areas of the room. For example, you could place an RGB LED Cube on a shelf or table behind your gaming chair to create a dynamic and eye-catching backdrop. Additionally, you can use different colors to enhance the mood of different games. For example, warm colors like red and orange can create a sense of excitement and intensity for action-packed games, while cooler colors like blue and purple can create a more calming and relaxing atmosphere for puzzle or strategy games. With the versatility of an RGB LED Cube, the possibilities for enhancing your gaming setup are endless.
Revolutionize Your Lighting with an RGB LED Cube
Revolutionize Your Lighting with an RGB LED Cube
Whether you're looking to add some flair to your home theater or create a dynamic centerpiece for your living room, an RGB LED cube is a versatile and eye-catching solution. With options like sound-reactive patterns and app-controlled lighting effects, you can create a unique and personalized lighting experience that's tailored to your tastes. With Hyperspace Lighting's high-quality LEDs and durable construction, you can enjoy the stunning visuals of an RGB LED cube for years to come.
The Future of Lighting: RGB LED Cube Ideas
RGB LED Cubes are the future of lighting, providing a unique and customizable experience for any space. With endless color combinations, patterns, and modes, these cubes offer an unparalleled level of versatility and control. Whether you're looking to add a splash of color to your bedroom or create an immersive gaming experience, an RGB LED cube from Hyperspace Lighting is the perfect solution.
One popular idea for an RGB LED cube is to use it as a centerpiece for a room, creating an eye-catching display that draws attention and sets the mood. Another idea is to use multiple cubes arranged in a specific pattern or configuration to create a stunning visual effect. For example, placing cubes in a circle can create a mesmerizing vortex effect, while stacking cubes can create a tower of color that's sure to impress. The possibilities are endless, and with the advanced sound reactivity and app control capabilities of Hyperspace Lighting's RGB LED cubes, you can customize and control your lighting display with ease.
Explore Our Best Products
Choosing a Color Scheme for Your RGB LED Cube
Choosing the right color scheme for your RGB LED cube can make all the difference in creating a visually stunning display. When selecting colors, it's important to consider the mood you want to convey and the setting in which the cube will be displayed. For example, a warm color scheme with shades of red, orange, and yellow can create a cozy and inviting atmosphere, making it perfect for a living room or bedroom. On the other hand, a cool color scheme with shades of blue, green, and purple can create a calming and serene ambiance, making it ideal for a meditation room or spa.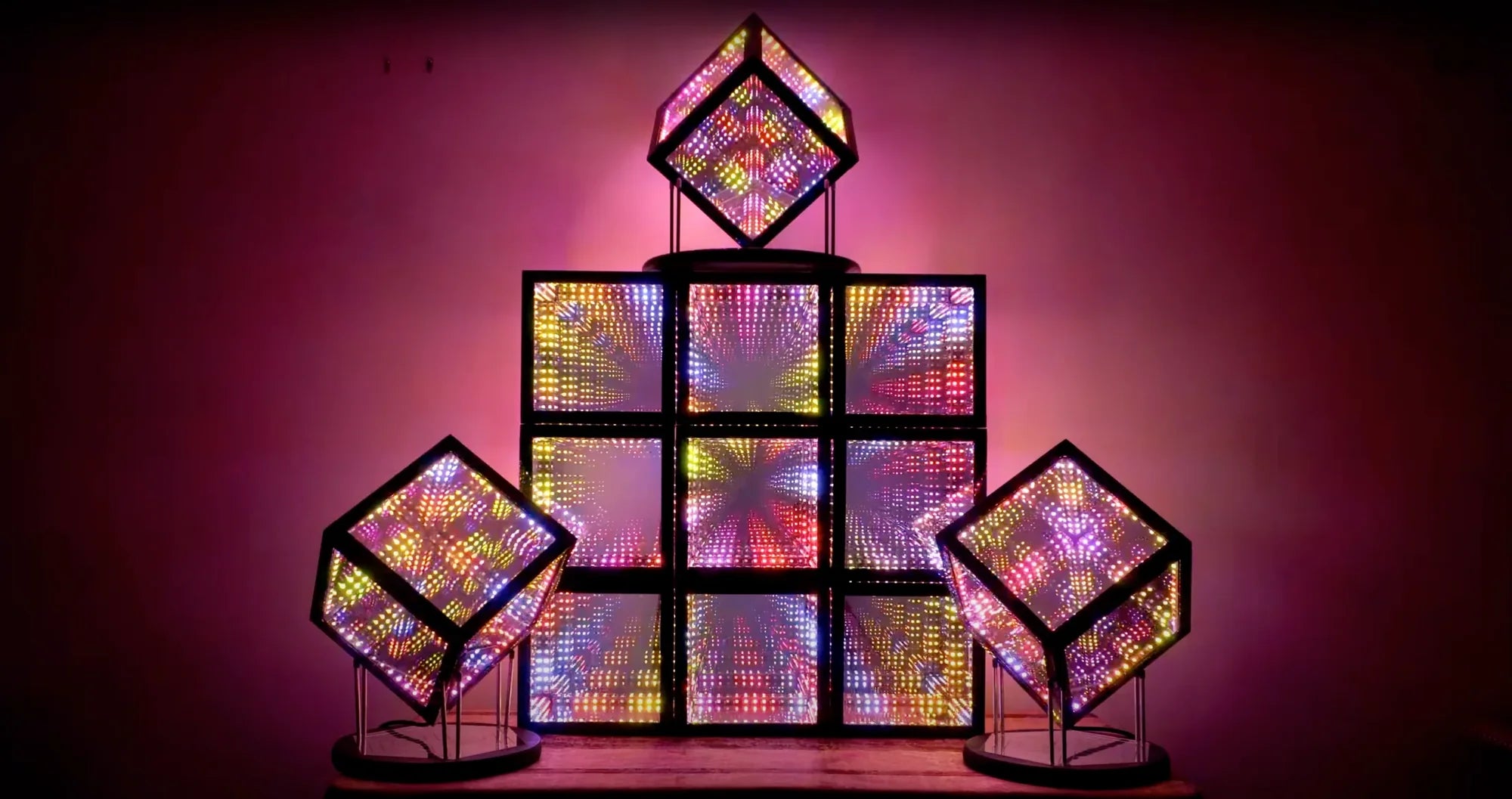 Why RGB LED Cubes are a Must-Have
RGB LED cubes are a must-have for anyone who wants to add a touch of innovation and creativity to their space. These cubes are engineered to perfection and are crafted from the highest quality components to deliver stunning, hyper-luminous lighting effects. They come in various sizes, including HyperCube10, HyperCube15, and the portable HyperCube Nano, making it easy to find the perfect size for your needs.
One of the key benefits of an RGB LED cube is its versatility. The cubes offer various lighting options, including warm and cool color temperatures, and over 95 unique lighting patterns, which means you can choose the perfect lighting scheme for your space. RGB LED cubes are perfect for any space, whether it's a gaming room, bedroom, living room, or office. They are ideal for creating different moods and atmospheres, from a cozy, intimate setting to a more energetic, stimulating ambiance. Additionally, these cubes are easy to install, and the USB-C power ensures maximum portability, so you can take them with you wherever you go.